Over the last year, consumer prices have risen faster than anticipated, signaling a worsened picture for inflation and confirming the likelihood of significant interest rate hikes this year.
The Labor Department said Thursday that the consumer price index for January, which monitors the pricing of dozens of ordinary consumer goods, increased 7.5 percent from a year ago.
The closely watched inflation gauge was expected to rise by 7.2 percent, according to Dow Jones estimates. The reading was the highest since February 1982.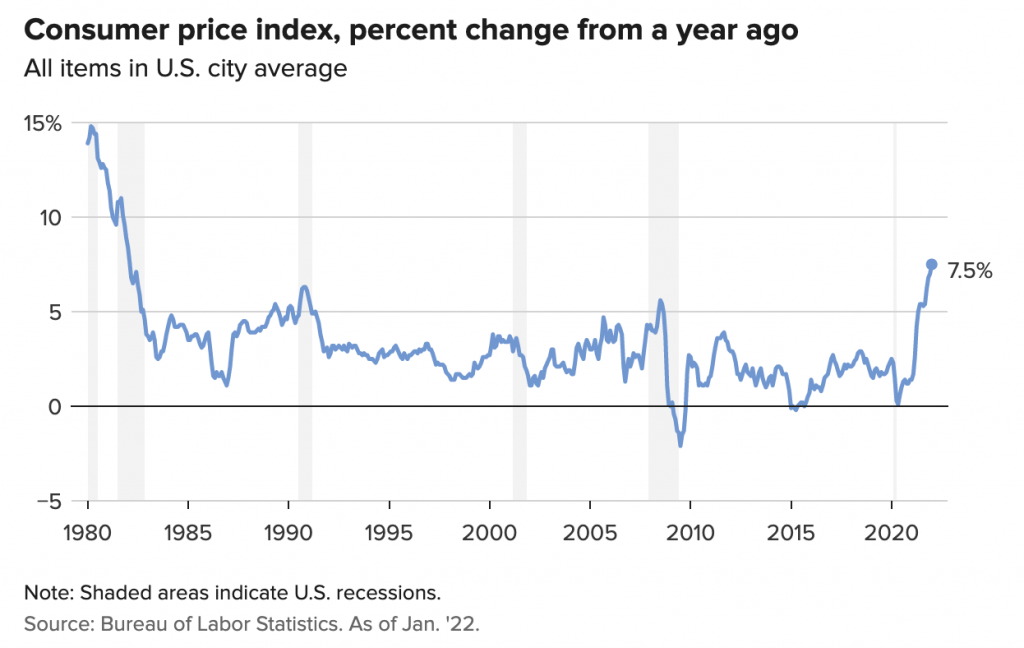 When volatile gas and grocery expenses are removed, the CPI grew by 6%, compared to a forecast of 5.9%. Inflation in the core reached its highest level since August 1982.
The monthly CPI rates were also higher than predicted, with headline and core CPI both gaining 0.6 percent, below forecasts of 0.4 percent for both measures.
Following the release of the report, stock market futures fell, with rate-sensitive tech stocks taking the brunt of the fall. Bond rates soared, with the benchmark 10-year Treasury note surpassing 2% for the first time since August 2019.
Markets have also become more aggressive in pricing rate hikes in the near future.
According to CME statistics, the probability of a 0.5 percentage point Fed rate hike in March increased to 44.3 percent following the data announcement, up from 25 percent shortly before. The likelihood of a sixth quarter-percentage point boost this year has risen to around 63 percent, up from around 53 percent before the publication.
"With another surprise jump in inflation in January, markets continue to be concerned about an aggressive Fed," said Barry Gilbert, asset allocation strategist at LPL Financial. "While things may start getting better from here, market anxiety about potential Fed overtightening won't go away until there are clear signs inflation is coming under control."
Food, housing costs rise significantly
The inflation figures come at a critical juncture for the US economy, with the fast growth rate of 2021 projected to decline this year as fiscal and monetary stimulus disappears. Growth is likely to remain above trend, while an inflation-fighting Fed's quicker rate hikes could be problematic.
Fuel oil surged the greatest in percentage terms in January, up 9.5 percent as part of a 46.5 percent year-over-year increase. Overall, energy expenditures increased by 0.9 percent month over month and by 27% year over year.
Vehicle prices, which have been one of the major drivers of inflation since they started rising in the spring of 2021, were steady for new models in January and up 1.5 percent for used cars and trucks. Over the last year, the two categories have grown by 12.2 percent and 40.5 percent, respectively.
Housing expenses, which account for almost a third of the total CPI, rose 0.3 percent in December, the weakest advance since August 2021 and somewhat lower than December's increase. Nonetheless, the category is up 4.4 percent year over year, which might maintain inflation rates high in the future.
Food prices increased 0.9 percent month over month and are up 7% year over year.
That combination of higher food and housing prices "underlines our view that a rapid cyclical acceleration in inflation is underway and, with labor market conditions exceptionally tight, it is unlikely to abate any time soon," wrote Andrew Hunter, senior U.S. Economist at Capital Economics.
"While we still expect more favorable base effects and a partial easing of supply shortages to push core inflation lower this year, this suggests it will remain well above the Fed's target for some time," he added.
Inflation has masked the substantial wage growth that workers have seen. The 0.7 percent increase in salaries was nearly totally offset by the 0.6 percent increase in inflation, resulting in a 0.1 percent increase in real average hourly earnings for the month.
Weekly unemployment claims totaled 223,000 for the week ending Feb. 5, down 16,000 from the previous week and below the 230,000 projection, according to a separate report released Thursday. The total was the lowest since January 1.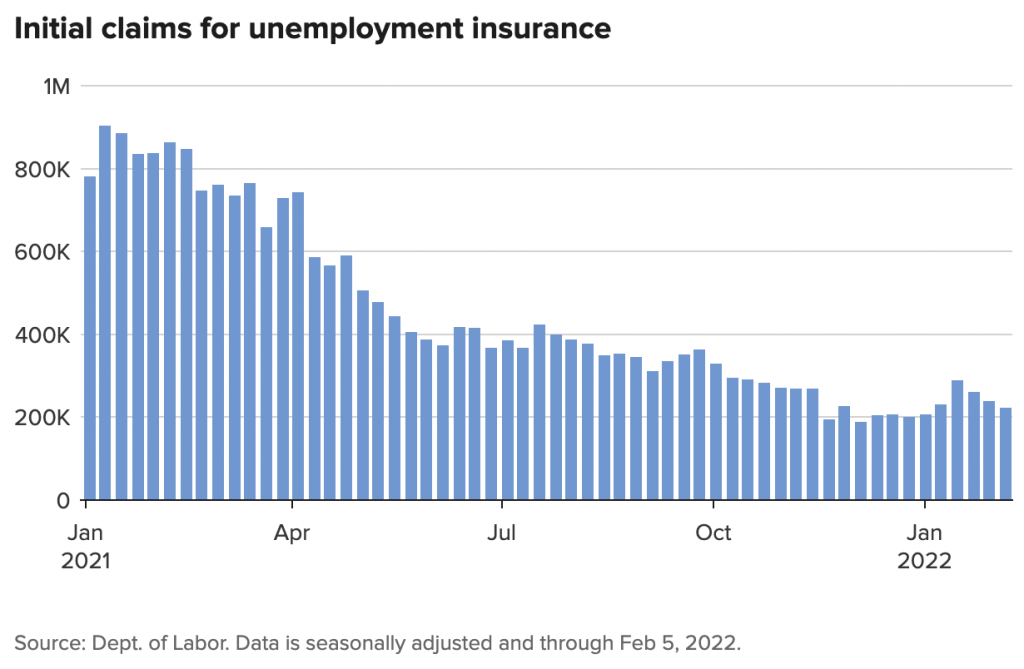 Continuing claims, which are a week behind schedule, were unchanged at 1.62 million. According to Labor Department data through Jan. 22, the overall number of people getting benefits under all programs increased slightly to around 2.1 million.
Is Real Estate your best hedge against inflation?
First, let's look at the impact of inflation on debt. As the value of a home improves over time, the loan-to-value ratio of any mortgage debt falls, creating a natural discount. As a result, your home's equity grows, but your fixed-rate mortgage payments stay the same. Historically, real estate rents and property values, have done a great job of keeping up with inflation.
Inflation favors real estate investors who generate income from their rental properties, particularly those in real estate sectors with short-term lease agreements such as multi-family properties because increased housing prices generally translate into higher rent. If you can increase your rent while keeping your mortgage the same, you'll have more money in your pocket.
Since property values tend to stay on an upward trajectory over time, real estate can be a useful inflation hedge. In less than a decade, most of the properties that hit rock bottom when the real estate bubble burst in 2008 were back to their pre-crash prices. Real estate investments can also provide investors with a source of recurring income and can keep up with or outperform inflation in terms of value.
Investing in a multi-family property is one approach to use real estate to hedge against inflation. Individual rental units, unlike commercial properties such as retail shops or restaurants, which normally have multi-year business leases, usually renew their leases every year. The more units in a building, the more often you'll be given the opportunity to change the rent.
Furthermore, multi-family assets, such as apartment complexes, are a unique asset class in that they are always in demand (particularly when housing prices rise), but they also have a high turnover rate of 47.5 percent. Furthermore, due to rising labor and material prices, there may be a limited supply of buildings or new development projects, causing rental rates and property values to rise. These two variables combined result in a property that is unlikely to stay vacant for long periods of time, as well as multiple opportunities to renew or start leases at market-adjusted rates.
Another factor to consider is that expense reimbursements, which are part of a lease, are another way for real estate to keep up with inflation. Regardless of the type of building structure, leases transmit some form of a property's operational expenses down to its tenants. In a triple net lease property, for example, the renter is responsible for 100 percent of the property's expenses. Landlords and owners may be partially protected from the effects on the property's cash flow if utilities and maintenance rates grow in tandem with inflation.
From increased pricing on consumer items to higher interest rates, there are some aspects of inflation that we simply cannot escape. The good news is that, even if the predictions come true, real estate is a way to protect oneself from the other repercussions of inflation. But hey, it's not all doom and gloom, at least bacon prices have begun inflecting down.