It's the newest buzzword and it's brimming with potential; and companies are looking to capitalize on both. This virtual world – the Metaverse – has people and businesses lining up to buy land and assets. Despite not being able to see or be physically present, investors and businesses have been redirecting their focus and spending thousands on virtual real estate in the metaverse.
If you follow emerging tech, then you've probably already seen Facebook's announcement on their rebranding to "Meta," as they plan to develop their own metaverse platform. Although 2021 was a big year, it wasn't the year of the Metaverse launching – it was the year of advancing technology and in result laying the foundation for the future of metaverse.
"It's the next evolution of the internet" Sydney Mcroy of Innertain said when I spoke with her about her company's foray into the field, "for us, its an expansion of our current VR, game design, and graphics background to create immersive live content for a gamified experience."
Opportunities abound, and the potential is big. It's a world in which you can operate like a consumer – exploring virtual worlds, participating in events, and playing games, but it's also the opportunity to create what you want to see in these worlds. Some individuals purchase property or assets, like a buyer of a $130,000 gas station in PolkaCity. Larger companies, like Walmart, have made plans to offer goods such as, electronics, apparel, home goods and digital products. Others like Innertain, are creating a platform for experiencing and showcasing content such as performances, artwork, and music.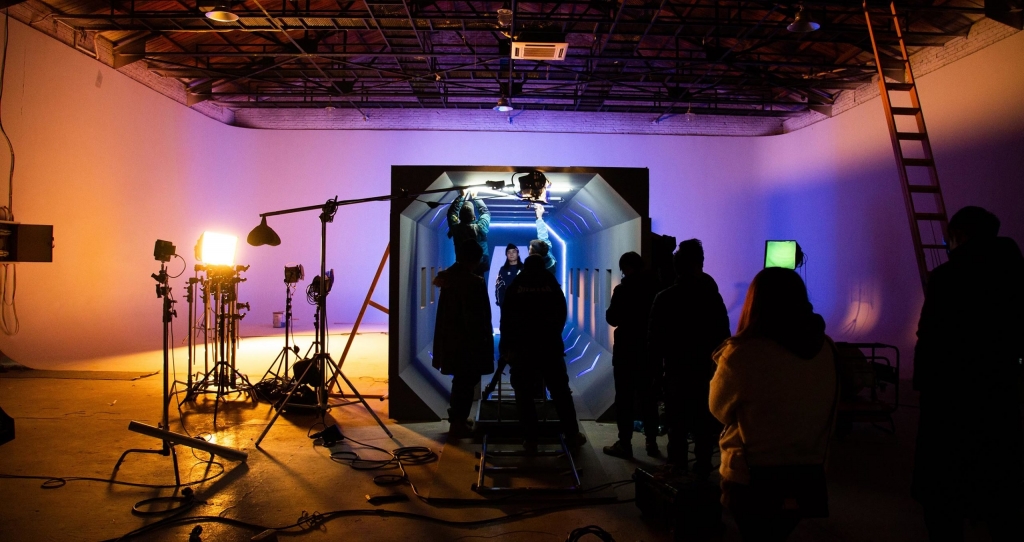 It's a hard concept to believe, but people are lining up to spend their money – thousands are being spent on land and assets which have no tangible value in the real and physical world. Despite what is initially a knee jerk reaction of "this can't be real", the payout from that pricey PolkaCity gas station could potentially repay itself if the price remains stable in what equates to roughly $12,000 a week in POLC tokens.
Even though this notion seems incomprehensible, the pondering question is how does it work – how do you acquire virtual real estate?
There are plenty of digital real estate opportunities in metaverses but Sandbox and Decentraland are the hottest sites for buying virtual real estate. To use both applications, you'll need to install the Metamask Chrome extension – an online wallet for digital assets, then you must finance it with one of two Ethereum-based cryptocurrencies: SAND (for Sandbox plots) or MANA (for Decentraland properties). Once your Metamask wallet receives the funds, you're ready to purchase your own virtual real estate.
Lets start by looking at how to buy plots on Sandbox
Want to live next to Snoop Dogg in Sandbox? It only cost $450,000 for one NFT collector back in December of 2021. The ability to reap large profits is there; the amount of land is limited per platform because of the idea that scarcity helps determine value. Sandbox has 166,464 plots of land and once bought up, just like in the real world, businesses and brands will have to lease land from the owners.
There are, fortunately, cheaper property parcels available. Sure, they're in the dirtiest sections of the Sandbox, where there aren't any Whole Foods for miles, but there's the chance that their worth will rise with time. The cheapest virtual area is little under $10,000. To get it, follow the steps below before someone else outbids you.
1. Go to TheSandBox.com/game.
2. Click on Market.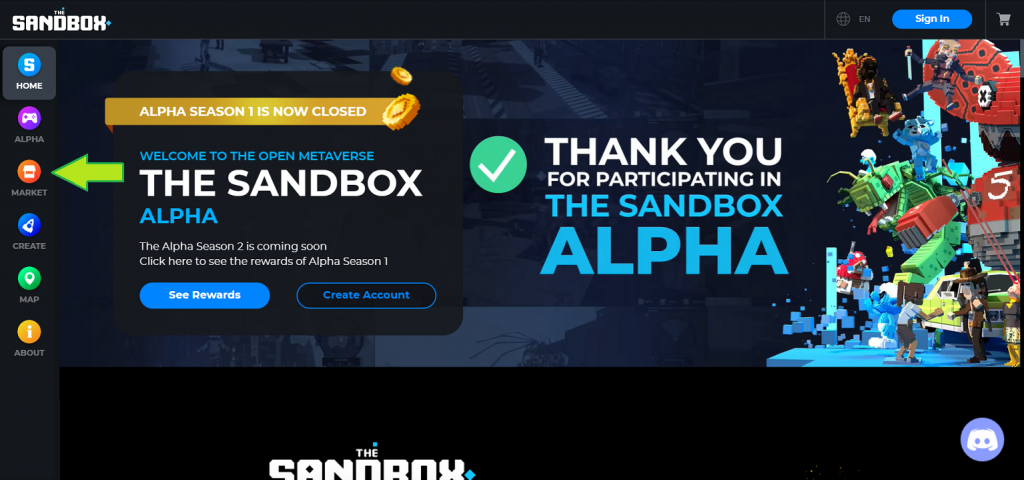 3. On the left panel, scroll down to NFT Type and click on Lands.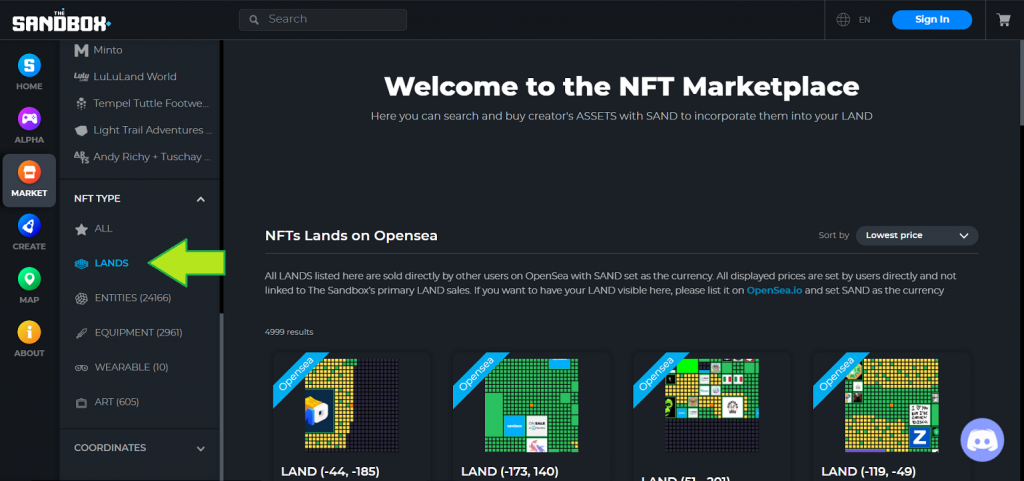 4. Choose the filter that best fits your needs (e.g. Newest, Oldest, Lowest Price, Highest Price). For this tutorial, I'll be selecting Lowest Price.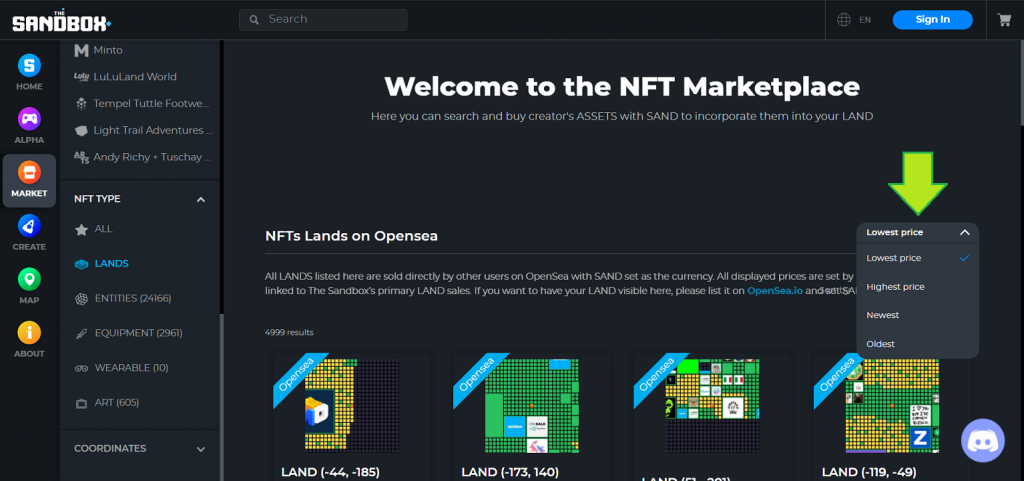 5. Select the plot of land that catches your eye and click on Buy.
6. After clicking Buy, OpenSea (an NFT marketplace) will launch, taking you to the property listing. Link your funded Metamask wallet to the site by clicking on the wallet icon.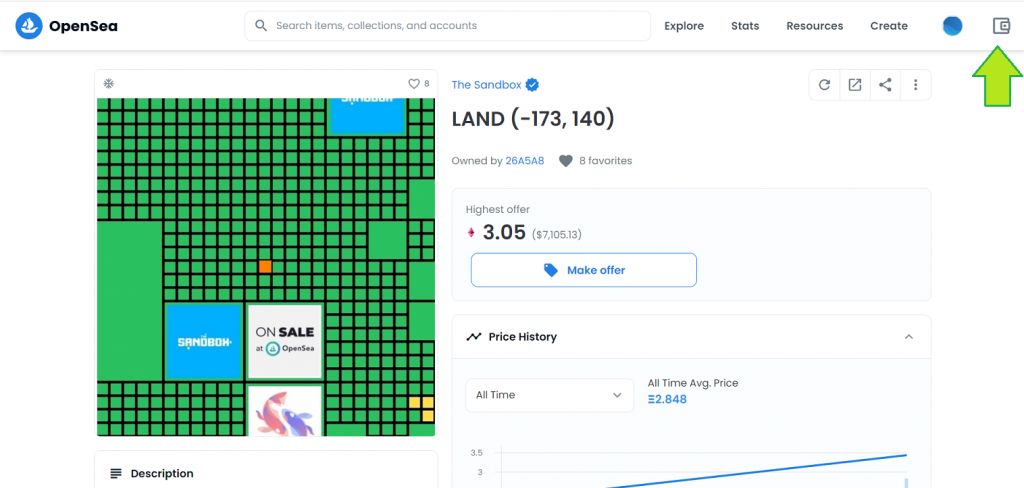 7. Take note of the highest offer as you'll need to outbid it to get the seller's attention. Click on Make Offer.
8. Next, input how much you'd like to offer in SAND (make sure you have enough SAND in your Metamask wallet or you'll get a "Not enough SAND to make offer" message). Note: You can buy SAND on Binance or KuCoin and transfer it to your Metamask wallet.
9. Select how long you want your offer to last: 3 days, 7 days or a month. If you prefer, you can set a custom date. Click on Make Offer.
10. Your Metamask wallet will pop up and you'll be prompted to click on "Sign" (to validate your intention to make an offer on the OpenSea listing).
11. Finally, you should see your offer appear under Offers. If your offer gets accepted, you'll be notified via email.
Buying Land in Decentraland
While Sandbox has attracted rappers and DJs, Decentraland, a blockchain-based metaverse game, has drawn the attention of big giants like Samsung. In early January 2022, the Korean tech business announced the purchase of Decentraland property. It's a virtual shop that may be explored, and it's modeled like the store in New York City. Decentraland has only 90,000 plots of land so as the more people build up their worlds, the more valuable their currency becomes.
As previously stated, your Metamask must be paid with MANA before you can buy anything on Decentraland. MANA may be purchased and transferred to your wallet via Coinbase, KuCoin, or Binance. Once you've made your decision, follow these steps to purchase virtual real estate on Decentraland.
1. Go to Decentraland.org
2. Scroll down to Trade and click on Start Browsing.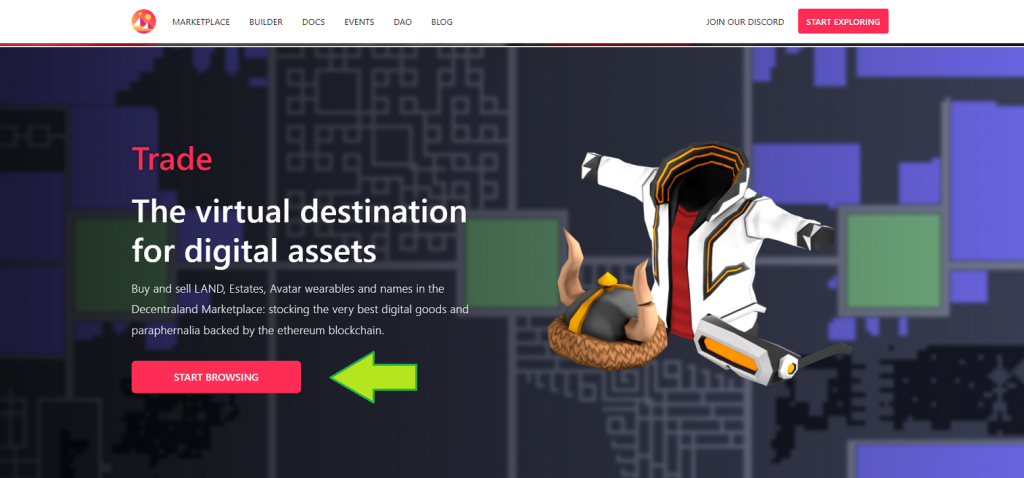 3. Click on Sign In followed by Connect.
4. Click on Metamask. This will allow the website to see the funds inside your wallet. Note: If you get a "Could not connect to wallet error," click on the Metamask icon on Google Chrome and click on Next followed by Connect.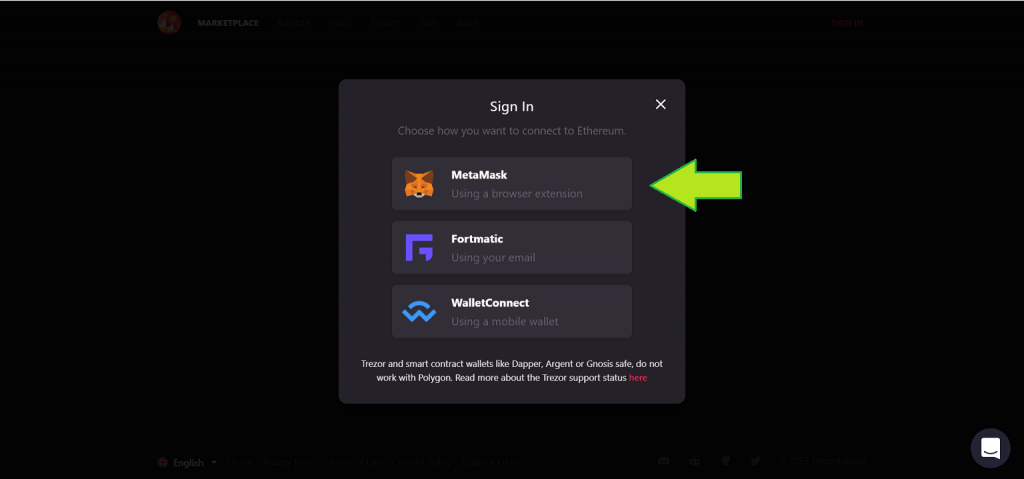 5. Click on Land (located on the top-left corner).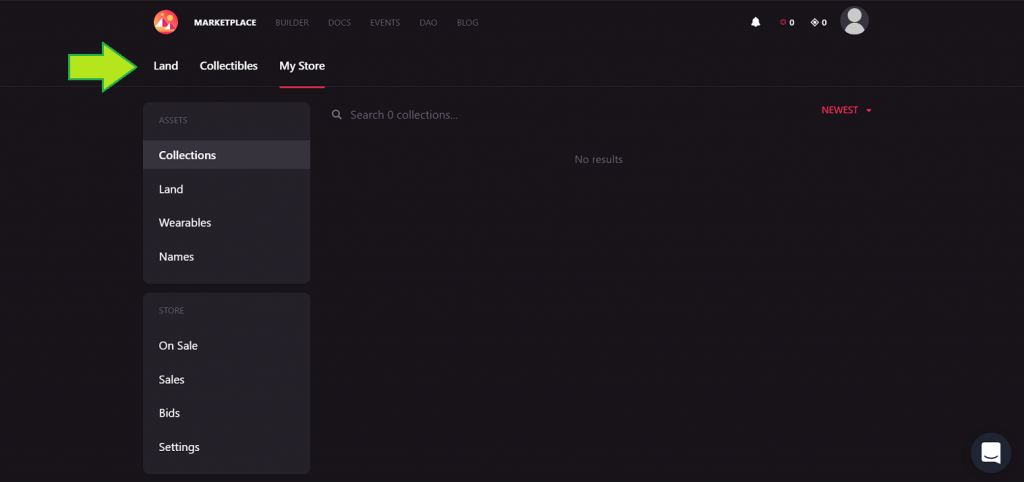 6. You'll land on a page that shows you a map of Decentraland (all the plots that are on sale are highlighted in light blue).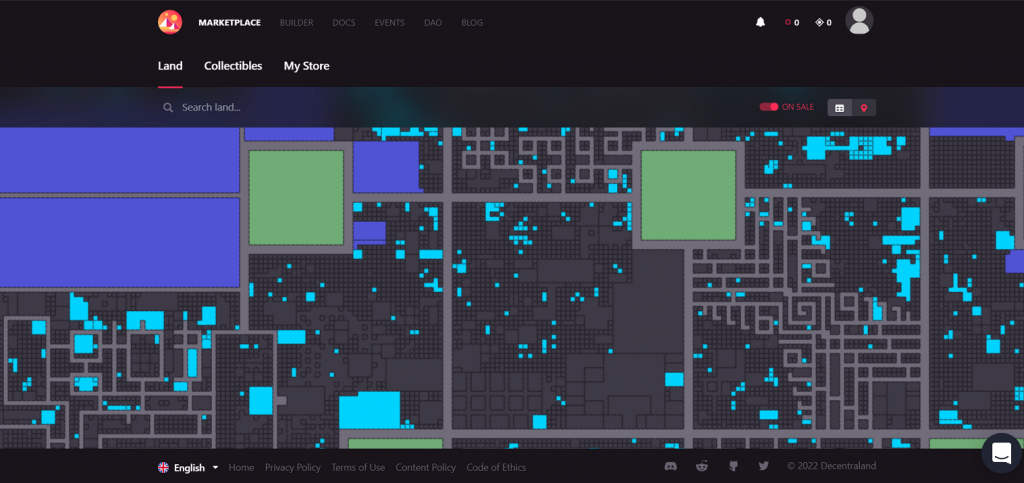 7. Click on a plot of land that has a price and location to your liking.
8. Click on Buy and follow the prompts to the plot of land.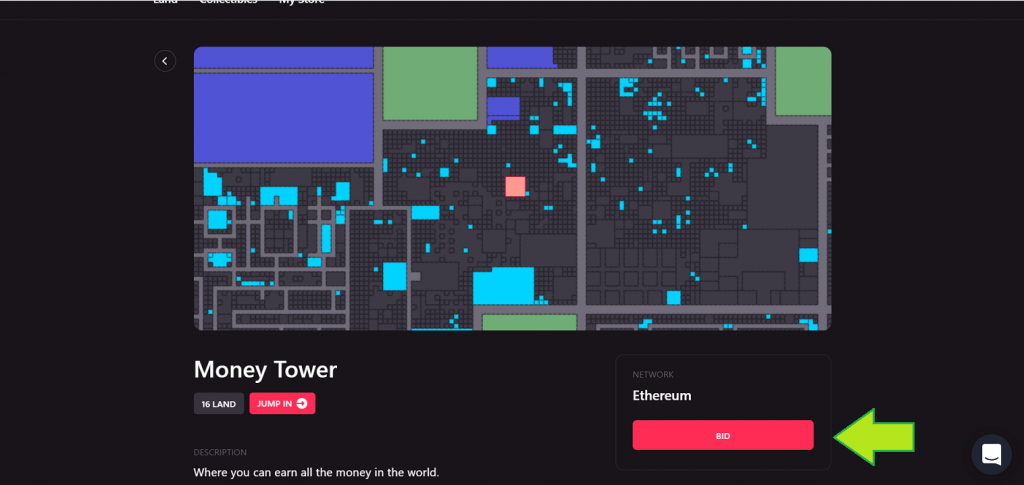 Keep in mind that in the metaverse, location is just as crucial as it is in real life. Landholdings near plazas (green regions) and districts (blue areas) are worth more than plots in Decentraland's periphery. The disadvantage is that they are the most expensive on the map, but there is a chance that they will appreciate quicker and provide the highest earnings for their owners.
Another disadvantage to consider when choosing a platform is that Sandbox and Decentraland do not provide landowners with passive revenue, although PolkaCity does. Currently, investors make money by purchasing properties, waiting for a rise in value, and then flipping them for a profit.
Despite the fact that metaverse properties are all the rage, just like many other investments, they come with risk – the real estate market could crash at any time, ultimately leaving investors with worthless digital properties. Please invest with caution.